Replacement for Stabilus Lift-O-Mat 1438EZ 0250N
$41.91
Replacement gas spring for the Stabilus Lift-O-Mat 1438EZ 0250N. This fits a (possibly already present) ball with a diameter of 10mm. A corresponding ball is included. Brand: Stabilus Industry Line.
Please note:
The diameter of the tube of this replacement gas spring is 23mm instead of 22mm. This gas spring is also known as CA1438EZ.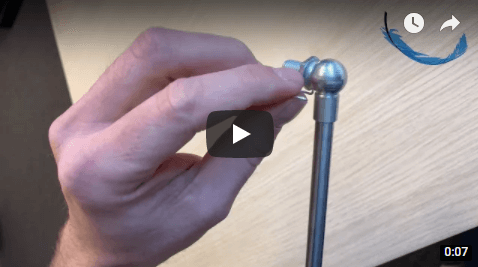 This gas spring has a cylinder diameter of 23 mm. The rod has a diameter of 10 mm. The stroke (the retracting part) has a length of 300 mm. The total length of this replacement gas spring is 685 mm. Attention: this is the length between the centers of the mounting parts. Without the mounting parts this gas spring is 645 mm long (thread to thread). This replacement gas spring (1438EZ) has a force of 250 Newton (N). This gas spring can replace a Stabilus Lift-O-Mat gas spring, but is not an orignal Stabilus Lift-O-Mat one. This a gas spring with the brand Stabilus Industry Line. Nevertheless, the force and dimensions close to equal.