Are you assembling a toy box on your own? It could help to use a gas strut for your toy box lid. Not only is it useful, but your kids will love the fact that you've had fun assembling their own custom toybox, they will cherish it and pass it on to their own children. Besides, a gas spring simply works very well.
Why is a toy box necessary?
You probably had to deal with this situation before. There are toys in the house everywhere. On the couch, under the table, next to the stairs. Therefore it could really help to assemble a toy box to keep all of your kids toys tidy. Also, when cleaning up you can easily store all toys in the box. It is very useful both for you and for your children. The gas strut also has a lot of benefits in using the toy box.
Why choose for a gas strut for your toy box lid?
So, you made the final decision to make a toy box that serves as a storage box for your children's toys. Good choice! Now you're probably wondering why you should use a gas spring for your toy box. Well, it's very simple. The toy box will probably be opened by a lot of children. The lid of the toy box can be quite heavy and the last thing you want is an accident caused by a folding lid.
The ultimate solution and prevention is a gas strut for your toy box lid. A standard solution at the hardware store mostly won't do, they aren't strong enough to stop the lid. The best thing you could do is to assemble a gas spring. And did you know, you could also use a gas strut for your door?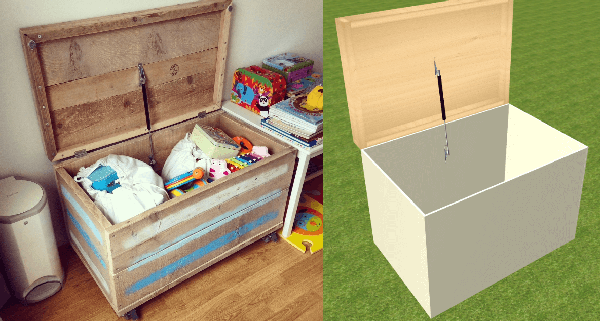 How do you know which gas strut you need?
We can imagine that you don't exactly know which gas strut you need for your toy box lid. Luckily we've got a tool on our website that calculates the gas strut you need. In only 4 steps you know which gas spring you need for your toy box. All the steps are explained in detail:
Stil struggling? You could also watch our instruction video ► to get started. The more specific the information you enter, the better the final result will be.
Order the gas strut for your toy box lid
It is not necessary to order multiple gas springs for your toy box. In many cases, one gas spring is enough, so that you do not incur unnecessary costs. All you have to do after calculating your gas spring is to add the gas strut to your shopping cart. If you still have any questions left, don't hesitate to contact us.
Are you looking for a gas strut for your bed? Find more information here.